AMI FLOWERS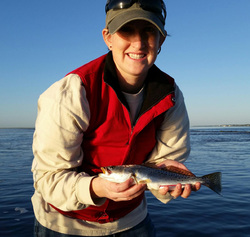 Ami Flowers
was born and raised in the little town of Appling, Georgia and spent most of her childhood exploring the woods around her house, going on fishing trips with her family, and constantly drawing the natural world around her. It was no surprise Ami decided to pursue a career in natural resources and earned both her B.S. and MS. in Fisheries and Wildlife Management from the University of Georgia. While in school, Ami also studied and gained advanced techniques in the field of scientific illustration.
Inspired by great artists and naturalists such as John James Audubon, Aldo Leopold, ad North Carolina's own Duane Raver, Ami combines her environmental knowledge and artistic talents to create accurate illustrations of plants and animals. She also enjoys creating very colorful and whimsical scenes, and works in graphite, pen and ink., watercolor, colored pencils, and digital media. Ami has won multiple awards for her artwork, is a published author and illustrator, and still finds time to work her day job as a Marine Fisheries Biologist.
Contact the artist at:
ami.flowers.art@gmail.com
---
---
Ami was recently featured on Time Warner Cable's "Made in the Carolinas" documentary series. Click HERE to view the artist's segment.
---
GALLERY
Click on the artwork to enlarge the image.


Colorful Illustrations of Animals and Ecosystems:

Intricate Pen & Ink Doodles:

Scientific Illustrations: