. Upcoming Events .

CLASSES AND SERVICES
EVENTS
---
VOTE FOR US
Greenville Brushstrokes Exhibition
August 29 - October 8
Opening Reception: September 1
Time: 5 - 8 PM
Where: Greenville Museum of Art

Our own Debby Mccullough will have a water color painting for the show.

​

---
---
NEWS
New Artists at the Gallery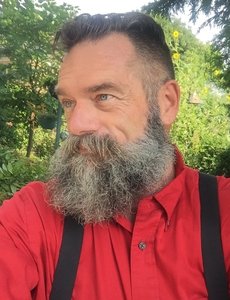 William Aley​:
William and his husband Thad relocated to Washington, NC in the Spring of 2017, recently from Silver Spring, Maryland. Thad's Father grew up in Washington NC and his family spans many generations of NC farmers. Thad and Will are starting a Tea Farm on family land near Pinetown.
Will has traveled most of his life, born in Germany while his father was in the Army. Then living on the west coast until he joined the US Navy. He was stationed in Scotland, Virginia, Florida, California and Washington State. William was recruited into the USDA from College and continued traveling while working for the government and will be retiring with over 36 years of federal service in September 2017.

Will has been a potter for most of that 36 years, taking a pottery class while in the Navy and receiving a minor in 3-D fine art along with his Bachelor of Science in Horticulture. He works with stoneware to porcelain, low fire raku and high fire to cone 10. His focus has been on artistically inspired functional pieces.

Fascinated by the human face he has added life casts into his collection of work that complements the bowls, mugs, jar, platters and tea pots.
---
Diana Bizet: Diana is a Midwesterner from central Illinois. In 1984, she and her husband were moved here for his job at Yale. Her interest in art started as a child with a book she received called "Album of Horses." It was paintings and drawings of horses. She was obsessed with these paintings, even having the book open on the handlebars of her tricycle so she could enjoy the horse art. She spent her childhood drawing horses until she received oil paints at age twelve. Then painting became her interest. She's since developed an interest in acrylic and water color as well. She started pressing flowers and decided to turn the pressed flowers into paintings. She's also had some formal education in art at PCC.
A few years ago, her original book was returned to her. It was a great moment for her when she opened her book "Album of Horses" and realized she had accomplished her goal.


---
River Walk Gallery was voted Favorite Gallery for Reader's Choice Awards in 2016.
Many thanks to all our patrons that voted for us.
Please stop by and visit our
Writers Corner
at the gallery, featuring local authors.