Dodi Groesser - Oil Painter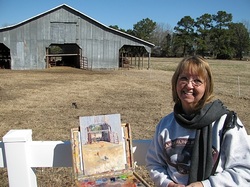 Dodi – Dorothy Groesser, Oil Painter
As an artist, it is my privilege to experience the world around me in a unique way. It is my goal to paint with joy and hope that it is revealed in the completed painting.
Color and light are my inspiration along with a story to tell. I do paint for myself, being drawn to subjects that shout, "Paint me"! I love to paint memories, flowers, landscapes, children at play…………it's just fun!
My style is fairly recognizable once you get to know me. My paintings are colorful, mostly, but soft; representational, but a little loose; and always have a story behind them.
To me, painting fulfills a desire to share my visual experiences with others. I always hope that in some way my art can be a blessing to someone else and that it might invoke a response that reaches the heart.
Dodi and her artist husband, John, have each won numerous awards in art exhibits and have paintings published in 3 books:
Painting North Carolina, Impressions in Plein Air,
Painting North Carolina, A Visual Journey
, and
Dogs That Capture our Hearts,
all by Kimberlee Maselli of Cary, NC.
4004 Timberlake Drive
Grimesland, NC 27837
2happypainters@suddenlink.net
www.Johnanddodigroesser.com
Facebook
---
SLIDE SHOW
GALLERY